Objectives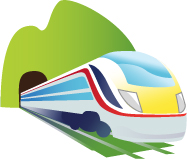 To undertake feasibility studies and techno-economic investigations and prepare Detailed Project Reports and Bankability Reports of selected corridors for introduction of High Speed trains in India.
To plan, design and freeze technical parameters for High Speed Rail Systems including fixed assets, rolling stock and operations.
To develop financing models, explore PPP options, coordinate with stake holders and funding agencies and obtain various Government approvals.
Project development, project execution, construction, upgradation, manufacture, operation and maintenance of High Speed Rail Systems on existing as well as new rail corridors.
To enter into and carry on all businesses related to High Speed Rail Systems and other rail based traffic as may be approved by Government of India or RVNL or any other Authority created by the Government for such activities.