Budget Speech
In the Budget Speech for 2015-16, Hon'ble Minister for Railways had announced: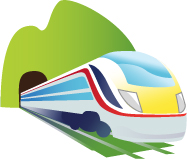 "we will continue to pursue with vigour our special projects like High Speed Rail between Mumbai-Ahmadabad. The feasibility study for this is in advanced stage and report is expected by the mid of this year. Quick and appropriate action will be taken once the report is available with us. Regarding the other high speed routes on the diamond quadrilateral, studies are being commissioned. "

"In the proposed investment plan for the period 2015-19 an allocation of Rs.65000 crore has been made for High Speed Rail & Elevated corridor."